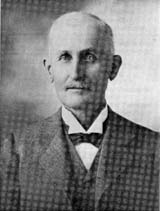 Guy Haines
Father: Frederick Haines
Mother: Sarah (Guy) Haines
BIRTH: March 10, 1831 in Lancaster Couty, Pennsylvania
DEATH: December 20, 1908 near Walker's Prairie
notes: other marriages? one anecdote mentions that he was in the company of an indian woman, and a law was passed that said if you're sleeping with an indian woman then you have to marry her or face punishment. Guy was supposedly first in line to get a marriage license.
Notes: came from Philidelphia. an outlaw and a scoundrel early in his life, came from an upstanding social family (Pres. Buchanan's parties were held at their house), probably german heritage. Was a surveyor for the government throughout Washington state. Rufus has a lot of info on what Guy did in his life.
From To the Descendants of Rufus L & Ruth Parker, compiled by Rufus W. Parker:
... todo ...