Trip to Romania, Summer 2004, part 2
Wednesday, June 23
In the morning i hop into a minibus bound for Pitesti, a city NW of the capitol, a two-hour trip on the only straight, modern highway in the country. (I have no journal from this time, so i am going from memory of 10 months ago..) I am here to visit a friend Eugen Toma, who works for Apele Romane, part of the government responsible for Water. I am an American visitor, so he suggests we meet at the McDonald's..

The tray says: "The world changes. Big Mac remains the same." Pitesti has the reputation as a dirty, industrial city, but Eugen took me for a walk through the Trivale area which was nice and full of big trees.
There were examples of old architecture, like this ornate gate, and new architecture, like this glaring modernist building across the street from it. All across Romania it seems that the newly rich are constructing posh buildings, of every architectural style, almost at random, usually clashing with the style of its surroundings. The road took us into a nice, large green park.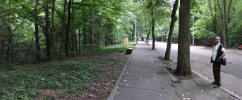 The downtown city center was also really nice. It seems that although the communist era saw the construction of many ugly concrete apartment blocks, they did some things right, like including a large, pleasant pedestrian plaza in the center. I saw a nice car-free plaza like this at the middle of every city and town i visited in Romania. Pitesti's was particular nice with flowers and fountains, in the soft evening light..

Thursday, June 24
The next day Eugen took me to his office. It was a coworker's birthday, so there was a mini celebration at the office with a table loaded with yummy food, plenty wine and vodka. Eugen and i talked about hydrology and protection of waterways in Romania, the state of data collection and possibilities for using the VTP in visualization.
After work, we walk around a "Dendrological Garden" near his apartment. This is a park with tree specimens of many species, unfortunately not labelled. This one in particular was a beautiful conifer of a kind i've never seen, with leaves as soft as velvet:
If you know what tree it is, please let me know. Wednesday night i take the shuttle back to Bucuresti, meet up with Vasile and we get on a train together, a sleeper car, heading north. Our destination is his hometown of Campulung Moldovenesc.
Friday, June 25
Early AM i awake in the sleeper car. We are now in the northern region of Moldavia (southern Bucovina). Penguin is watching the countryside rolling past: picturesque haystacks and early morning fog, some sadly denuded over-logged mountains, and the Moldova river which gives this regions its name:
We arrive in Campulung Modovenesc. Vasile leads me through the quiet streets to his family's house, where we are greeted and fed breakfast. Everything is fresh and delicious, the milk and cheese from their own cows. In fact i realize that virtually everything here is home-made, even the house they built themselves.
After a nap, we walk back into town. A curious thing: somebody who lives in a normal communist-era concrete apartment has upgraded his apartment to a nice large wooden house:

We shop and the market and bring home strawberries. These are eaten with smantana, along with some mamaliga and nice fatty ciorba:

You might think that strawberries, sour cream and polenta would be a strange combination, but it was all indescribably delicious. I think it has something to do with the freshness of the food, which seems to increase the farther one gets from Bucuresti.
Campulung Moldovensc runs east-west along a river valley. Here are views north and south from Vasile's house:
To the north you can see some of the clearcut areas in the distance, but they've apparently left some of the forest standing that immediately faces the town. The story is that Germans came through this region 100-200 years ago, clearcut everything, but were wise enough to replant with good timber species. That's why the forest look so uniform. It remains to be seen whether the current intense wave of logging (the majority of it quite illegal and unregulated) will be so wise. A steady stream of logging trucks rumbles ominously through the town.
We take a bicycle ride on the dikes along the river. Pictures can't quite capture the vividness of the wildflowers and a surprise rainbow.. in fact, a double rainbow.
Later than evening, dessert is clatite (crepes..)