Trip to Romania, Summer 2004, part 4
Monday, June 28
5:49 AM. I am in Cluj. Yes, Cluj, not my destination of Baia Mare. I am beginning to wonder how this train system is supposed to work, even for locals. I was supposed to get off my train at Dej in the middle of the night at some unspecified time, in order to transfer to a Baia Mare-bound train. However, (A) the conductor was nowhere to be found (B) the dark stations we rolled past had no signs to reveal where we were (C) it's hard to try to sleep, then peer out of a sleeping car each time the train brakes screech. So, i'm in Cluj, and thank goodness my Romanian is good enough to sort out the mess with the ticket agent, then hunt around for someone to ask as the ticket doesn't show platform or departure time. Due to this accident, i am now scheduled to depart on Romania's fastest train, the IC "Sageanta Albastra" at 6:34 AM. Being here in Cluj is ironic because it's were i was hoping to stop on my way back.. well, i'm here, but only an hour to wait between trains.
On the Blue Arrow, heading north-east through Cluj's suburbs then a large open landscape of plains and gently rolling hills. Farm houses with fields of corn and wheat, orchards and pasture. Small patches of forest on the hills. The haystacks are shaped like hemispheres here, unlike the taller rounded cylinders or the fence-line shapes elsewhere. The industrial town of Gherla pops up on the left, its ugly plants seeming out of place with the surrounding beautiful green landscape. Romania's fastest train doesn't seem to be going very fast, probably no more than 100 kmph.

7:53 AM. We are now in something like a river valley, following a wide, calm river which i presume is the Somesh. Large, bushy light-green trees line its banks. Here the hills are like they were in Campulung: pasture up to a certain point, then forest on the top. Corn and hay pastures predominate. Sill following the Somesh...
8:42 AM Statie Jibou. I realize we are taking a very windy route north. An hour later, we finally roll into Baia Mare. Just before the city, there is a strange sight to the left: what looks like an enormous long, low plateau of bright white:
(Later, i will learn what this is.) At the station, Dacian recognizes me immediately. We drive to his apartment... food.. drive and walk around town.

You can't go far without noticing that the city is completely dominated by an enormous cosh, a smokestack for a huge ore smelter, extracting copper and lead and gold, and famous for polluting this entire part of Europe.

A bird's eye view of the city. (So what if it's a flightless bird? :)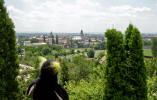 We go to Muzeul Satului ("The Village Museum"), which contains examples of traditional village architecture from regions around Romania, from several historical periods.
The large wooden beams, complex joinery, lack of nails, shingles and covered gates remind me strongly of the Japanese styles that i grew up with as my father's work. Although the museum is officially closed, they let us in anyway and we run into a nice curator, who is astonished to find that an American who can actually understand a little Romanian has come to visit her museum. She speaks rapid-fire at me, and my brain works in overdrive, occasionally looking to Dacian in desperation for a small translation. We came across many worker busily building and repairing traditional structures, often using traditional tools.
Then, the old town center, with only a couple original old buildings, Turnul Stefan and an older round tower.

What's that growing in front of Turnul Stefan? That's right it's an Ailanthus, that invasive Chinese tree that's taking over North America and Europe!! Apparently it's quite happy here, although this was the only one i saw in northern Romania. It was quite a bit more common down south.
This pretty lake (Mogosha?) is a popular place for people to go an any season (in winter, to ski). It is postcard scenic.
I don't recall if this giant rock wall was carved by glaciers or human miners...

An odd sight: apparently there is some local tradition of carved wooden poles which looks almost exactly like the totem poles of the Pacific NW Native Americans:

Lake Firiza is also a popular scenic area we visited...
We dug into these delicious pastravi, which i later learned translates as "trout"..

Tuesday, June 29
Dacian is a super-nice host, taking another whole day to drive me around in his Dacia and show me the whole region. Breakfast is a coctel: banana, milk, raw egg. I think we're going to his office, but instead we drive east, through Baia Sprie and the villages of Sisheshti and Shurdeshti. There is no open pasture here, only forest and many orchards around every house. It is quite beautiful and green. We climb uphill through a valley towards the mining town of Cavnic. I am alarmed to see these old-looking pipes running through several valleys and towns, knowing they contain mine tailings, a toxic metallic slurry of ore and water:

We stop to take a picture of a monument to a Tartar invasion, proudly announcing that the Tartar horde was stopped here, going no farther into Europe:
We pull into a mining complex and ask if we can go into the mine, as tourists. They confer privately then say no. The reaction is something like, "Crazy tourists, you want to go into the mine? We don't want to go into the mine."
Does the Dacia break down? Of course it does :)

We drive north, over some mountains (Creasta Cocoshului) through the Mara valley, through a string of villages and small towns which are the heart of the Maramures region. Here the wooden architecture is strongly distinctive, with each house having an ornate wooden covered gate. We pass many people in traditional costume walking down the street, apparently for some kind of festival day.
We reached the small city of Sighet, next to the border with the Ukraine, and visited a couple museums. The first one was of Folk Craft, at which i saw fearsome costumes traditionally used around Christmas, and learned that although Romanian folklore has no dragons, there is a strange dragon-like creature called the Balaud:
..and a prison museum. This was an infamous former prison of the Communist era, which each jail cell has been turned into an exhibit with subjects ranging from the better-known prisoners that inhabited the cells to the history of Communist Eastern Europe and the cult of Ceausescu.

Heading west, we come to the town of Sapanta, which is famous for its large wooden monasteries. We visit one which is being rebuilt. Here, the intensely complex joinery and the pagoda-like shape of one structure remind me even more of things Japanese. We climb to the top of the tower, the tallest wooden building in Europe, and have an excellent view, including north over the Ukraine.
Then there is the "merry cemetery," Cimitirul Vesel, which has brightly decorated graves with pictures and stories (usually rhyming poems) from the deceased person's life:

Then another monastery, fully built, with huge wooden architecture that is just intense: