"god" - dynamic 3D terrain/water simulation - 1993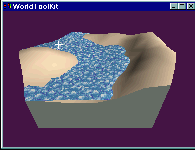 God lets you dynamically create and edit 3D terrain, including water which flows naturally. A lot of fun to play with. The texture on the surface of the water translates to show direction of flow. Never gave it a friendly interface though.
God is very CPU intensive.